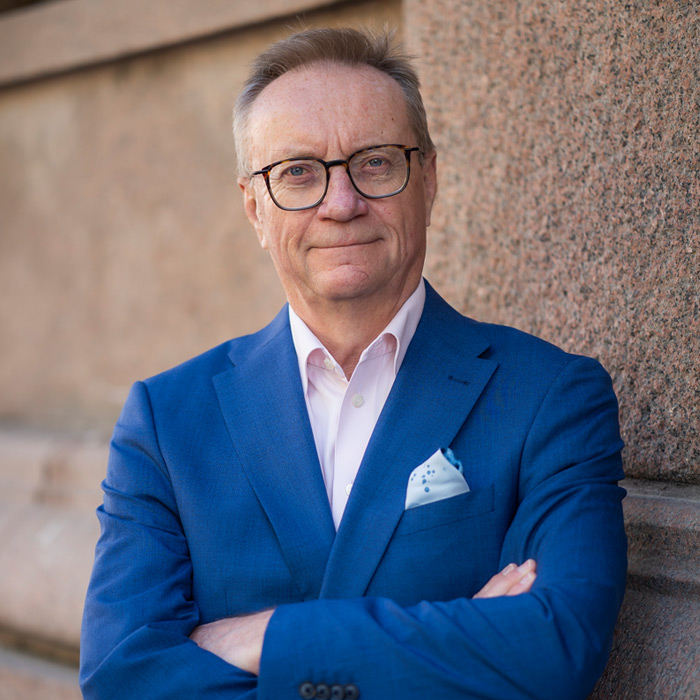 Matti Manner
Main fields
Contract Law, Corporate law, M&A, International Trade Law, Dispute Resolution, Litigation and Arbitration.
Mr. Manner has long-term experience of national and international mergers and acquisitions and negotiating and drafting of national and international contracts. "The International Who`s Who of Business Lawyers" has taken him several times to the list of about ten noted attorneys in Finland, and Mr. Manner is the only one outside of Helsinki.
Mr. Manner handles wide range of litigations in courts and arbitrations. He is nominated as chairman or arbitrator in numerous Arbitration Tribunals.
Mr. Manner was in 2013 awarded to a Honorary Chief Judge, granted by the President of the Republic of Finland.
Language skills
Finnish, Swedish, English
Other
Prior to founding B&M, Mr. Manner worked as a judge in the District Court of Turku and as a junior judge in the Appeal Court.
Mr. Manner has been President, Vice president and Member of the Board of the Finnish Bar Association, 1996-2004. He was member of the council of International Bar Association, 2001-2009.
Mr. Manner is or has been a member or chairman of the board of the directors inter alia:
Elisa Plc, Saunalahti Group Plc, Faron Pharmaceuticals Ltd, Turun Osuuskauppa, Shopping Center Mylly Ltd, Satatuote ltd, Marva Media Ltd, Nurmi-Yhtiöt Ltd, YH VS-Rakennuttaja Ltd, Ruissalo Säätiö Foundation, Foundation of Länsi-Suomen Yleishyödyllinen Asuntosäätiö, Foundation of Finnish Bar Association, Foundation of Aboa Vetus Ars Nova.
Manner is a member of the board in Turku NMKY, Aurala Setlementti and Turku Chamber of Commerce law and economic committee member.
Contact information
0400 824 100
(02) 511 7024
firstname.lastname@brander-manner.fi
Legal assistant
Oona Valtonen
(02) 511 7032
firstname.lastname@brander-manner.fi